What is HowDidiDo?
HowDidiDo is the largest golfing network anywhere in the world. HowDidiDo holds in excess of 50 million rounds of golf along with the handicaps, results and scores of more than 1,200,000 UK golf club members, and around 1850 golf clubs.
HowDidiDo is a free golf statistics database for any golfer that is a member of a Club Systems International supported golf club. The Club Systems International CLUBV1 / CLUB2000 scores and handicapping package has been installed in over 2000 clubs and allows those users wishing to publish their competitions and handicaps to HowDidiDo, to do so free of charge.
What is ClubV1 Members Hub?
ClubV1 Members Hub is a fully responsive secured area, containing Member information which is automatically updated and driven by ClubV1. The hub can be used as an Android/Apple app or just as a Members area from a 3rd party website, Search for 'ClubV1 Members Hub'. The visual foundation of all member facing products to ensure members are familiar with processes when using PSI, APP or website. The Hub allows the club to Supply the membership with valuable information in real-time.
What is MSi (Mobile Score Input)?
Mobile Score Input is a feature provided it our mobile app, which allows players to enter competitions, pay entry fees and enter their score, all from the convenience and safety of their own smartphone.
The feature is available on Android and Apple iPhones under the heading 'Today's Golf' and is one of the simplist features to use. It is FREE of charge for all product levels of ClubV1 and does not need enabling by us. By default it is switshed on for all clubs and all golfers.
Club Administrators can enable the feature for each competition during the setup process in ClubV1 under the 'competition Wizard', simply tick the box and add the start and end dates and times that entry is to be allowed. These options are under 'Sign in' and 'Score Entry.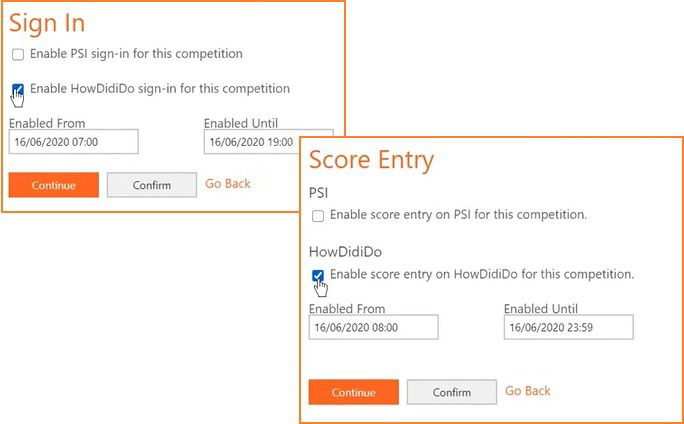 A full 18 minute training video, is available here.
What is PSi?
Player Score Input - The latest PSi design puts the emphasis on 'usability', making it easier for players to enter and confirm their score by splitting 18-hole competitions into separate nine-hole score-entry screens: the front and back nines. This streamlining allows for larger buttons and an easier-to-read scorecard, while the software prompts users to confirm the score after each nine to prevent errors being discovered later in the process.
Other parts of the PSi have been redesigned to allow for a clearer sign-in process to multi-tee competitions – a format that allows the golfer to play in a single competition from a tee appropriate to their ability rather than gender. This format is being used more and more by clubs seeking to find ways to be inclusive to golfers of both genders and of any ability. We also have a completely new PSi leaderboard which takes inspiration from contemporary sports TV channels for a modern look and feel.
What is ClubV1 Booking?
A casual booking system that's simple & affordable to manage both members and visitors casual bookings. A good looking, fully responsive, easy to use website. Fully integrated with ClubV1 and the ClubV1 Member's App.
ClubV1 Tee Booking makes managing your golf clubs tee sheets easier than ever, allowing users to review the day at a glance, manage bookings for members or visitors and identify the general availability of tee times at the club. The member and visitor modules are also both accessible via the mobile-friendly ClubV1 Members Hub, allowing users to easily manage all their golf bookings from their phone.
- Flexible green fee rates where different Rates may be charged for Members in different categories, Visitors, and Member Guests.
- Flexible green fee rules to specify which Green Fee Rates are applied at which times for which courses.
- Custom tee reservations to reserve slots on the tee sheet for a particular course over a particular time, day and date range.
- Custom tee restrictions to prevent Visitors, or Members in particular categories, from making bookings on a particular course over a particular time, day and date range.
- Custom booking types.
- Integrated Competition booking to easily manage the tee sheet.
- Variable settings such as tee time intervals and number of players per tee time.
- Automated email confirmations to bookers with custom terms and conditions.
- Members can make casual bookings via the ClubV1 members APP, whether you're viewing the hub on a smartphone or a laptop, the hub is unified and easy to navigate despite the differing screen sizes. Providing an optimal experience for the user across the board .
- GDPR compliant data capture of visitor contact information,
- 'Pay on Arrival' or 'Pay upfront' via HowDoiPay,
- HTML Reporting on tee time usage, optimisation and revenue.
- Multiple course booking.
What is Event Management?
End to end event management from enquiry to invoice and payment through the EPoS system.
What is PSIBoard?
Standing for 'Player Score Information Board', this product has to be one of the most exciting we have ever launched. Plug in our 'thin client' bit of cleverness and you can display live current information to your members and guests all at the same time.