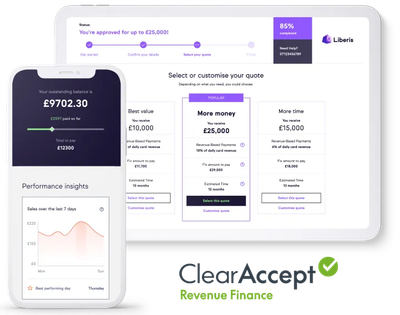 Fast, flexible funding for businesses like yours
HowDoiPay powered by ClearAccept gives you access to ClearAccept Revenue Finance, the fast, flexible way to fund your business.
Apply online in just a few clicks.
Once approved, you could receive your funds in less than 48 hours.
There's no mounting debt. You'll pay one simple fixed fee as a percentage of your card takings.
You can use the funding for whatever you need to give your business a boost.
Learn More
This product is provided by Liberis Ltd, Scale Space Building, 1st Floor, 58 Wood Lane London, W12 7RZ (Company number: 05654231). ClearAccept Ltd will receive commission from Liberis following a successful referral. Liberis is not authorised or regulated by the Financial Conduct Authority. Your funding is not protected under the Financial Services Compensation Scheme (FSCS), nor will the Financial Ombudsman Service be able to consider a complaint about Liberis. Amounts advanced are subject to status and our underwriting process before any offer can be made.